Additional context
Person or institution
Primary source
Nothing selected. Click on the highlighted text to view annotations.
The Faculty spent the evening of Monday March 15, considering the question of Registration. To bring the group together in friendly fellowship we served an informal supper before the meeting, and twenty-seven members of the faculty were present--of whom eleven were Chinese. Fourteen of us had attended the College Conference and were more or less familiar with the general problem. We tried to face our particular problem--what Ginling should do to meet the government requirements, what the consequences would be if we could not satisfy them, etc. etc. To add in starting discussion, Mrs. Thurston, Miss Hoh, and Miss Spicer, who had represented Ginling at the Council of Higher Education, and Miss Hanawalt who was on the Business Committee of the College Conference, had prepared the following questions:
Do you think Ginling should modify its aim and purpose to satisfy Clause 5? Is the government justified in putting in such a clause?


Do you feel that required religious courses are a desirable part of our program? (1) Educationally? (2) Religiously?

Do you think that they should be given up in order to be registered?

What would your opinion be if the responsibility was with you?
Mrs. Thurston made a statement in regard to Registration as it had been under discussion in East China for ten years. The decrees of 1917 and 1921 were read and the efforts made by certain schools to secure registration were reviewed. The local situation in Hangchow, where schools have been registered under friendly officials, and the case of Nanking officials stamping diplomas in several girls' schools last June were reported. The steps to be taken by Ginling in order to conform to Regulations 1-4 were traced and the action of the Executive Committee urging uon Missions the choice of a Chinese representative on the Board of Control was approved by vote of the faculty who expressed themselves in favor of meeting these four requirements "as quickly as possible, even though the revision of the Constitution be involved."
(Regulations 1-4 require that the term "privately established" be prefixed to the official name; that the president or vice-president be Chinese and represent the institution in applying for recognition; that a majority of the Board of Control be Chinese. Regulation 5 is translated "The institution shall not have as its purpose to propagation of religion" or as Dr. Timothy Lew puts it "religious proselytization". Regulation 6 is in two parts (a) "The curriculum of such institutions should conform to the standards set by the Ministry of Education" and (b) "It shall not include religious courses among the required subjects.")
All discussions centered on Regulation 5 and the second part of Regulation 6. We tried to limit our discussion to the particular problem which Ginling is facing. Some questions asked by persons without general understanding of the background led us off into somewhat wider questions such as general attitude of other Government toward private schools founded by religious groups, suggested by one question "Is the government justified in putting in Clause 5?" Toleration of Jewish and Parochial Schools in America, the failure of Oregon to eliminate the private school were cited; also the fact that England not only tolerates but makes grants to such schools and includes religious instruction in her Board School course of study.
The direct question "Are we willing to surrender our aim to be registered" as raised by Mr. Djang Fang. The fact that our aim as a college is "higher education under Christian auspices" was brought out but the statement that Gining was founded "for the furtherance of the Cause of Christ in China" has been made in all our catalogs and would probably be challenged if Clause 5 means what it would seem to mean. Miss Spicer and Miss Treudley suggested that a statement of the college aim in educational terms instead of the Founders' purpose in religious terms need not be denying our Christian aim. Mr. Thomson questioned whether the present statement represented our present aim and if so whether it would be honest to restate.
Mr. Djang Fang felt that the Government was trying to force Christian schools to change their aim; that if we reworded it they would not be satisfied. Miss Hoh and Miss Griest stated that the Chinese delegates at the College Conference did not so interpret Clause 5. Miss Hoh brought out the need felt by China to prevent political propaganda in foreign schools; that Peking Chrisitan Educators say "Don't force the exact definition of Clause 5 because Clause 6 shows that Christian teaching is allowed." Miss Treudley said we might state our purpose in a way to avoid giving offence to people who disagree with us and yet state it as both educational and religious. As long as we are honest in our main purpose--Christian Education--we can only state it as our aim. Otherwise we cannot register and be honest. The possibility of having our honesty questioned by government inspectors after registration was mentioned and also the possibility of later demands which could not be met being made by the Government and cases in Japan were cited. Miss Hoh thinks there is no need to fear that China will do as Japan did--that if we register we shall have support of educators and be in a better position to fight for liberty.
Miss Spicer and Miss Treudley brought out the point that the decision to register would be made by a Board of Control with a Chinese majority.
The question of required vs. elective courses in religion was brought in and Mr. Thomson expressed the opinion that it ought to be decided on its merits apart from the question of registration. The difficulty of faculty deciding for students and the chance that students would incline to choose registration even at the cost of religious courses were points to be considered. (Spicer and Hoh). Mr. Djang Fang said that as a Chinese citizen he would like schools to be registered and he was willing to reconsider the religious program but not just for the sake of registration. He felt that the advantages of registration were not very great. A few graduates might get government scholarships. Better feeling between Christian and government schools might result but it would come in time as our schools were better understood. He admitted that "religion" cannot be taught--it is a matter of experience but that the teaching of religion could help toward religious experience. Our schools are now propagating religion we can teach boldly; if educators teach religion in a disguised way the government can criticise us. Missions ought not to be afraid. Most of the trouble is made by sub-freshman. Parents send children to Christian instead of government schools ("Sorry but a fact"). We had better get far away from the government if we want to maintain Christian influences. ("I may be a traitor to government and country but it seems to me the right position to take")
Dr. Jones brought out the point that academic as well as religious freedom was involved; that Chinese Christians in the next generation might look back on us as betraying a trust if we yielded too easily. Opposition will soon be overcome if it is possible to go on without being closed at this time. Miss Grabill felt that we do not want to evade whatever we do, but to stand and explain our position if we have to.
Miss Hoh referred to a mandate issued recently which stated that schools would be closed if they failed to apply for registration. Mrs. Thurston told of a recent interview with a Kiangsu official who was asking about this mandate and replied that they had no intention of closing the Christian Schools; that they knew they were good schools and sent their children to them--that in 1917 and in 1922 no action against schools was taken by the government; that everyone thought the recent mandate a sop to the communist group who oppose registration of Christian schools on any terms. Miss Hoh felt that there might be some danger of government action this time. Miss Loh thought that we should know how to hold our aims and unless we changed them we should not compromise. If the aim was right there was no need to change it. In the near future she did not feel it was a matter of great importance. Miss Loh thought it was a chance for Christians to prove whether they hold their aims firmly or not. China has a constitution in which each citizen has freedom of religion. We might be refused registration because we are weak in Chinese.
Miss Case and Miss Treudley brought out the position held by the majority of Chinese in the College Conference as being different from Mr. Djang Fangs in favoring registration and in feeling that the Government did not wish to push out Christian Schools.
Miss Whitmer asked about the report of the commission appointed to discuss the terms of registration with the Peking Ministry of Education. Mrs. Thurston stated that the present minister was not as friendly as the one who issued the Regulations; that the Commission would wait for a favorable time and make an informal presentation--"Conversations" on the subject, stating among other things the difficulties in connection with supporting constituencies abroad. Miss Griest stated that schools in Mexico were not allowed to teach any religion--not even voluntary Bible classes but that Missions were opening new schools and admitting the need of freeing the government from the grip of the Catholic Schools against which the regulations were issued. A similar situation existed in Japan. Miss Hoh argued that Peking used the Bible as a text in English classes, that religious work could be done in elective courses and through personal work, giving students freedom to choose to become Christians. Government has no right to prevent teaching. She pointed out the difficulty of getting Chinese Christian opinion because there was as yet no Chinese Church,-only missions.
Reference was made to a discussion last spring of the question of required courses of religion in which faculty opinion was strongly on the side of requirement on grounds similar to those on which History is required. Miss Griest stated her position to have been in favor of required religion courses for the intellectual foundations of belief but that the arguments of the Chinese at the Conference had influenced her and since they were representative Christian men and know the Chinese better than we, she would be in favor of re-opening the discussion of this point but did not think we ought to register on that basis. Miss Spicer felt that the criticisms made were of a required system as it had been worked and Mrs. Thurston pointed out that some of them were criticizing middle school and not college teaching. Several of them had taken their college work in America. Miss Loh admitted that any required course was likely to be less popular and more interest was taken in electives. Miss Spicer felt that required work in college was advisable but if the field is over by work done in Middle School, College Freshman would not elect religion.
The question of making report to students was discussed and faculty judgement as to how it should be discussed with student groups. This was left to the Advisory Committee to arrange and they have asked the committee who prepared for the faculty discussion to plan for informal conferences with seniors and juniors.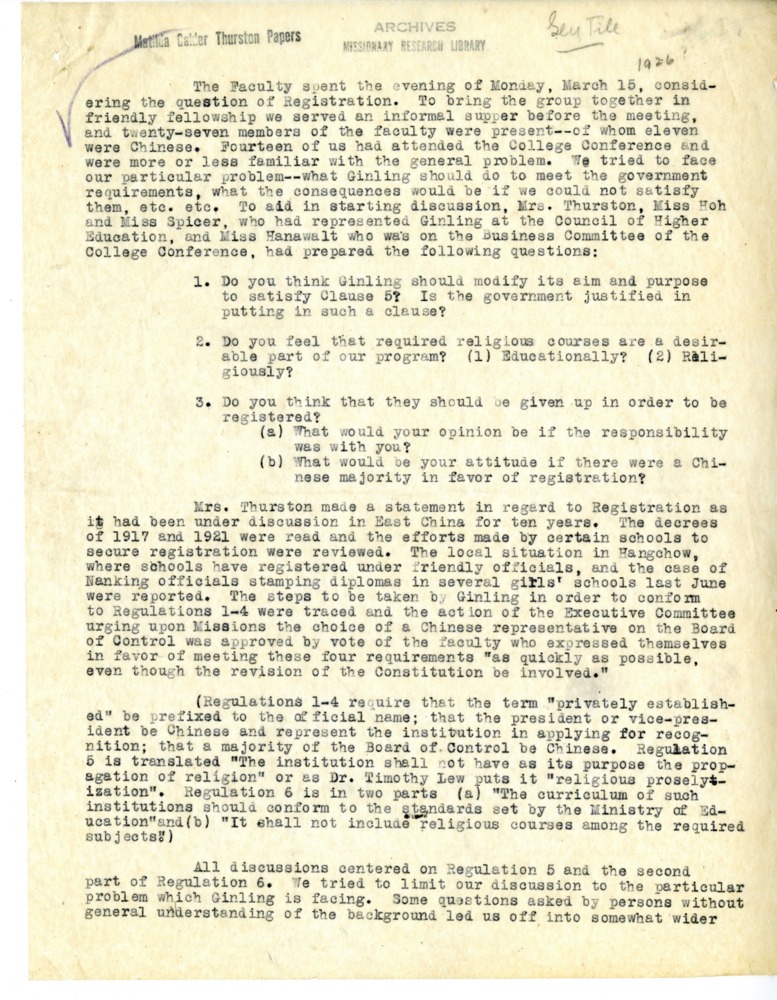 Meeting Minutes Mrs. Thurston, MRL 6: Matilda Calder Thurston Papers, Series 5, Box 1, Folder 3, The Burke Library at Union Theological Seminary, Columbia University in the City of New York