Minnie Vautrin's Letters
Wilhelmina "Minnie" Vautrin was an American Christian missionary who served as President of Ginling College from 1919 until she was replaced by Dr. Wu Yi-fang in 1928. Vautrin, however, remained at Ginling College until returning to the United States in 1940 and served at Ginling for a total of 28 years. Vautrin is memorialized for her huge impact on refugees during the Nanjing Massacre where she was believed to have been responsible for the housing and protection of at least 10 thousand refugees at Ginling College. For Vautrin's incredible humanitaritan work at Ginling she was posthumously awarded the Emblem of the Blue Jade by the Chinese government.
Vautrin committed suicide in America in 1941 due to extreme stress and trauma from the Nanjing Massacre. In her diary shortly before her death Vautrin wrote "Had I ten perfect lives, I would give them all to China."
Felder, Deborah G. The American Women's Almanac: 500 Years of Making History. Detroit, Michigan: Visible Ink Press, 2020, p. 401.
Additional context
Person or institution
Primary source
Nothing selected. Click on the highlighted text to view annotations.
Letter written by Minnie Vautrin January 11, 1938, recipient unknown
Tuesday, January 11, 1938, Nanking, China
What a feast we had last night when your big fat envelope was delivered to us containing a letter from each of you, from Yi-fang, (Dr. Wu), Mrs. Rhead and Abigail, and Florence's letter to Rebecca. If we had indigention [indigestion] in the night it was because we ate supper in such a hurry that we could get at the letters. After supper we gathered around the round table in the 400 living-room. (The furniture from the Faculty Dining-Room in the Central Building was moved over to the 400 living-room table). We read and read. There were Mrs. Tsen, Mr. Chen, Mr. Li, Mary Twinem, the day school teacher, Miss Lo, and Miss Wang, a student from the seminary, in my audience. There was so much news in the letters that we now feel quite up to date on Ginling affairs and have had our dozens and dozens of questions answered. After I went down to my room at the Practice School I again read the letters for I have been aching for news of all of you. That is the second letter I have had now from Ruth Chester and Florence Kirk, and they came in on two successive days.
From 9 to 12 tjis [this] morning Mr. Chen and I were in a meeting down at the headquarters of the International Committee of the Safety Zone. It is the first meeting that has been held of the heads of the Refugee Camps. I believe there are about 20 places where refugees are housed, and at the meeting this morning there were more than thirty present. Herr Rabe, the Chairman of the Committee, made a speech of welcome and then he left to go to his own work. George Fitch then made a speech of welcome and appreciation, and the rest of the time was spent in discussion of problems of the camp - which I can assure you are legion, perhaps ours at Ginling being the least difficult for we have only women and children. Poor Searle Bates has had such difficult ones, and of every description.
Our guard of five military police at the gate are proving more successful than we had dared hope. Unfortunately, the guard is changed every day so that each evening Mr. Wang and Mary Twinem and I have to go down to the gate and as tactfully as we know how we try to let the men know that we will be responsible for order and peace on the inside of the camp if they will patrol Hankow and Ninghai Road for us. Those awful days and nights when we were in great fear for the safety of the young women in our charge are beginning to grow dim in our memories now - even that unforgetable [unforgettable] night of December 17th when 12 women were taken from our camp. As soon as I can I shall write "A Review of the First Month" and will let you know something of the experiences that I cannot write at this time
Will you please tell Alice Morris that her chest of drawers was looted. It was down in the Chinese dining-room and that if she wishes to put in a claim for the things that were in it she is free to do so. The other day a representative from the Embassy came over and asked me if we wished to file a claim for college and individual losses. The college has lost so little that I said that we would not present a claim for I do not think it would be much over $200.00 mainly to cover the doors that have been smashed. Chang Siao-sung's, Dr. Wu Yi-fang's and Chen Pin-dji's chests making good such losses. Neither could I file any claim for the losses over Mr. Miao's house or Chen Er-chang's house.
I think that I have not told you that Wei was taken on December 14th and did not return until December 28th. He is just now in condition to do light work. Dhang Szi-fu's son, who was caretaker over in Mr. Miao's house was taken on December 16th and has never returned and I feel he was one of the hundreds of young men who were cruelly and ruthlessly shot or bayoneted during those first days. I have made several efforts to get the boy but have failed. The father is heartbroken about it.
Do tell Liu En-lan, and Wang Ming-djen and Dzun-mei and Miss Yen, (all members of the faculty. Ed,), how glad I am that they are in Shanghai. It is very comforting to know that you may be able to start a real freshman class down there the second semester, and that your faculty has grown. It is good to learn that you may have a hostel too. I shall be anxious to hear about the plans for the group to go to Chengtu. Keep me informed of any news that you get from them for I think that we shall be entirely cut off from them for a long time. We know practically nothing of what is going on in the world outside.
An industrial school of some kind for the many women whose only support has been taken from them is needed. We will need to teach such women to do something that will enable them to support their children. One sad woman who walked by my side recently said that she is left with five small children with no means of support whatever. And there are many such. I long for Miriam Null and Joy Smith and Etha Nagler. As for the Middle School, the day Dr. Wu's suggestion came, Mrs. Tsen and I were wondering if it would be safe to try to encourage the starting of a primary school. Just now the middle school for girls does not seem at all possible, but we cannot foresee the future these days.
With deep deep love to all and appreciation for your prayers. They have sustained us.
---
Letter written by Minnie Vautrin on Thursday December 9th, 1937 to the American Embassy
"Although the post office will no longer receive letters I have heard of a person at the Metropolitan Hotel who is trying to get up to Hankow and I will see if he will take these letters out, for I know that you are all anxious to hear from us as long as it is possible.
Yesterday we could hear occasional gun or cannon shots at a distance, but this morning it seems much nearer. To Mrs. Tsen and me it seems to be to the southwest of the city. We also know that the Japanese army is not very far to the east of the city as well. I am still hoping that if the Japanese army approaches from two sides and if the gunboats come up the river - they have not yet gotten past the barrier down at Giangyin - that the Chinese army will retreat rather than to make a stand here and run the risk of sacrificing a large group of men by having all means of excape [escape] cut off. We have a number of air raids each day now but only the urgent warning is given for there is no chance to give the first warning since the planes are upon us too quickly. There has as yet been no combing of the city by planes as was done in Soochow and we are hoping that we will not have to go through such an ordeal of destruction.
The International Committee for the Safety Zone has been working like galley slaves on trying to put the safety zone into effect. Yesterday the flags were put up - the red cross in the red circle. This zone is now crowded with people. Most pitiful stories were told to us yesterday by people living near the south gate, the Confucian Temple district and the East Gate district, who were forced to leave their homes on a few hours notice. I imagine the police had to be ruthless or the people would not have left their homes. Many of the houses in the above regions have been burned because they interfered with military plans. The Committee has had a very, very difficult time in getting the orders of the higher military officers to penetrate down to the lower officers and as a result fortifications continually are placed within the safety area and shelters are still being built in the region although to be really a safety zone all of these will have to be removed, even to military hospitals.
Ever since Dr. Wu left those of us on the campus, including the servants, have been working like Trojans getting ready for the refugees. Yesterday we completed preparing the dormitories. All the furniture has been moved to the big attics - one value of big attics that we did not think of before - and the rooms have been thoroughly cleaned. In the four regular college dormitories we will house 1320 refugees, putting nine in a room. In the Central Building we can house 436 and in the Arts Building 550. In the Science Building 266 and in the Practice School 180. We are not planning at the present time, at least to put them in the South Hill Residence, Eva Spicer's house, the Library or Music Buildings. The neighborhood House is already full to overflowing families. On the main campus we are expecting to take only women and children, the boys being not over twelve. The total that we have figured on taking is 2750. That seems a good many to you but the committee wanted us to take in about ten thousand. There will be a soup kitchen managed by the Red Cross on the vacant land just to the northwest of our gate.
Last night we took in a few and this morning they are coming in. Our organization is well planned so that Mrs. Tsen and I do not need to be on the job all of the time but can be free to meet special problems. Six servants have been organized into guard and have special arm bands. They help at the gate and also direct people to the right building. We have prepared a special plan of the campus showing the number of persons who can be assigned to each room - allowing 16 square feet per person, including children. We have also prepared cars and as each group comes in it is assigned and given a stamped card. Mr. Li does the former and Mr. Hsia writes the card. Mr. Chen is outside of the gate with Yang Szi-fu trying to get them into families and explain to them. At the buildings - and we only open one at a time, is Miss Hsueh, the day school teacher with a group of her pupils and also some of the older children living on the campus, and they escort them up to the room to which they have been assigned. These youngsters have special arm bands and have a special room where they gather and they feel quite important. "Big Wang" is living down at East Court and his three children are helping, and also Mrs. Tsen's second grandson who is invaluable. He certainly will make a fine business manager someday. As I write the aeroplanes are carrying on a vigorous raid in the south section of the city. Miss Wang, a student in the seminary, and Miss Lo are both living down at the Practice School and are giving us a great help. Mr. Wang goes to the office of the international Committee everyday and helps them there. You can see that we are a busy, useful family on the campus, even if we are not joyful or carefree.
Each day at six o'clock, Mrs. Tsen and I have been attending Press Conference which is held down at the headquarters of the Sino-British Cultural Society. Mary Twinem has come for us each time and taken us in her car. After the meeting she comes home with us for supper. Although none of the men have told us that we were heartily welcome, yet they have not told us we were unwelcome and so we continue to attend. It has enabled us to get in touch with people of importance and to keep up to date on progress especially of the Safety Zone.
I am so sad every time I go out on the street that I seldom go out now. Nanking is but a shadow - a sad and dejected shadow - of what it was a year ago, when there was so much enthusiasm and progress. The roads are in terrible condition, of course. The houses in this area are fast filling but the rest of the city is deserted. How much destruction there has been down in the south city I do not know. At the Press Conference every effort has been made to persuade the military and the mayor to cause as little destruction in the city as possible - for after all it will be the poor of the Chinese population who will continue to liver here when the city is turned over. They have promised not to follow the "scorched earth" policy but it remains to be seen whether or not the promise is kept.
Fortunately for the poor, the weather is still good although cold at nights. In the day time we have sunshine which is a great blessing. If there were snow or rain people would be most pitiful.
A letter came from the American Embassy yesterday afternoon in which they say "Simultaneously with the departure of other foreign diplomatic officers, the remaining officers of the American Embassy will this evening hoard the U.S.S. Panay and establish temporary offices there, It is expected that the officers of the Embassy will return to the premises on shore during the day time. Full functions on shore will be resumed by the Embassy at the earliest date practicable. When information is received that the Hsia Gwan gate (Yi Chiang Gate) is closed the Panay will move from its present anchorage to one off of San Chia Ho. The Embassy is attempting to make efforts with the authorities to keep open the telephone to the U.S. Naval Club on the Bund (32814) and to the Asiatic Petroleum Company Installation at San Chia Ho (32906). Ropes for assistance in evacuating over the city walls are being given into the custody of M.S. Bates, etc." I give you this information so that if any of you wish to try to get in touch with us you may do so. How long may we be cut off from the outside world we do not know - but we hope it will not be for a long time.
I must go out to the front gate and see what the condition is there. Remember that no news is good news and that thechances are very large that we shall come through the ordeal safely, I am sure that you are daily praying for us that we may be continually felt by the spirit of love and understanding. I am sorry that I was not able to get a Christmaas message to each of you - but there has been no time for it. No time to copy diary. Will do so later."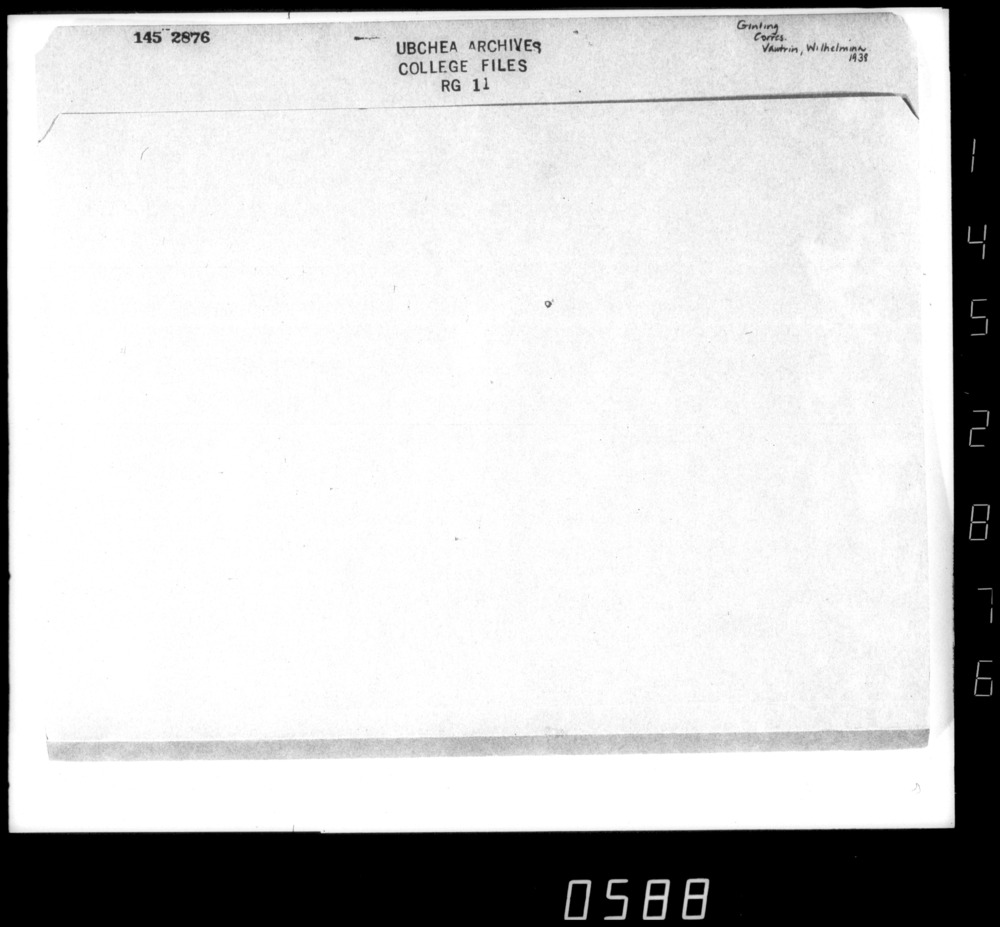 Yale Divinity Archive, box 145, folder 2876